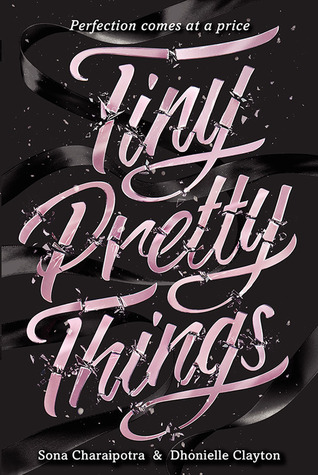 Title: Tiny Pretty Things
Author: Sona Charaipotra & Dhonielle Clayton
Pages: 448 pages
Published: May 26th, 2015
Genre: Mix of contemporary and suspense
Source: Hardcover from Barnes & Noble
Rating:
Black Swan meets Pretty Little Liars in this soapy, drama-packed novel featuring diverse characters who will do anything to be the prima at their elite ballet school.




Gigi, Bette, and June, three top students at an exclusive Manhattan ballet school, have seen their fair share of drama. Free-spirited new girl Gigi just wants to dance- but the very act might kill her. Privileged New Yorker Bette's desire to escape the shadow of her ballet star sister brings out a dangerous edge in her. And perfectionist June needs to land a lead role this year of her controlling mother will put an end to her dancing dreams forever. When every dancer is both friend and foe, the girls will sacrifice, manipulate, and backstab to be the best of the best.




Read it now!
BLACK SWAN MEETS PRETTY LITTLE LIARS SHOULD BE ENOUGH TO GET YOU TO READ THIS BOOK!!!
If you haven't been properly convinced yet, let me explain why right now and I'll bet you that I'll have you practically begging on your knees to have this book stat!
This book follows three of the best students at an elite Manhattan ballet school. In the world of this school, it's all about being on top and there is really no such thing as second place if you want to be seen by the professional ballerinas from the school's company. The three point of views in this novel made the story more riveting and expressed the differences in their personalities. Gigi is a kind, sweet doll that just wants to show off her true talent. Bette is a devious, conniving little bitch that will do whatever she has to in order to get to the top even if it means destroying something completely. June, the perfectionist that is always second at everything and she's tired of it.
This book completely blew me away! You would expect ballet to be about elegant and gorgeous swans that are always listening to directions and their footsteps are as light as a feather, but in this story the authors decided to play a little twist on the story. Inside an elite ballet school, you've got to do a lot to stay on top of Mr.K's (the school instructor) list of prima ballerinas. I thought this plot was set aside from other books and unique in a whole 'nother aspect. EVIL BALLERINAS?? Yes please!
When you begin reading the book, you are immediately pulled into the world and it's kind of like you're a ballerina in the school that is experiencing and being a witness of everything that happens. If you didn't understand that, it's kind of hard to explain, but basically the story starts off with the girls plotting their way to the top and destroying everything in their way.
The character development is SCARY GOOD! It shows the progression of these soft and gentle ballerinas turning into ruthless black swans that are obsessed with the idea of igniting a flame in order to get to the top of the class. Really, competition turns people into something else. The revenge plots were fun and enjoyable to read about-- ranging to different lengths such as having sex with someone you don't want to, seducing a teacher, violent means, and even some plots leading to the death of a student. These girls are unwavering in their means and it's a pretty sweet book that's evil and dark. I like books with a twist, and this certainly had it.
Another thing I want to point out about this book is the cover. The cover shows ribbons being sliced into different pieces, which I think is brilliant and wonderful that the cover designers thought to do that. There are also little shards of glass on the cover that play a huge and significant role in the book, which if you read the book, you'll totally understand.
If backstabbing, betrayal, romance, and a dark read are all things you look for in a good contemporary suspense novel, I highly suggest reading Tiny Pretty Things. This story holds much more a mysterious vibe than any regular contemporary novel and the dark ambiance of the story will show you the devious sides of ballerinas at their finest moments.