Yes ladies, that is Stiles Stilinski from Teen Wolf. It's August which means we are halfway through the year of 2015. 2015 has so far been a great year that couldn't be complete without mentioned of these top debut books. I still feel like these books have made such an impression on my reading life in general, and I'm ecstatic to share these with you so you can go pick them up.
Yes, these books are in order of rank.
The Wrath and the Dawn by Renee Ahdieh
This book takes first place as my top novel so far this year published by debut author Renee Ahdieh. This book is based on the story of 1001 Nights I believe and takes place in this Arabian-esque world. There is the land that is ruled by this boy-king and every night he takes on a new bride only to have her killed in the next morning. Intrigued, are you yet? The main character's best friend has been taken victim by this King and killed and now she's out for blood, this King's blood. She volunteers to be his bride with plans of taking him down but as she spends more time with him, she realizes that this king is not all he seems to be. With elegant writing, an awe-inspiring plot, and down to earth characters, Renee Ahdieh will make you wish you had the sequel in your hands, yearning for more! PLEASE DO ME A FAVOR AND READ THIS BOOK, like now.
Tiny Pretty Things by Sona Charaipotra and Dhonielle Clayton
I had a rough time choosing between this one and The Wrath and the Dawn because both were amazing. This book takes on a new type of story that is unheard of and is told from the point of view of three top students at this elite Manhattan Ballet school. You would think that ballerinas are supposed to be graceful and elegant, but no, Sona and Dhonielle discover the dark sides of the most elegant creatures and lures you into the dark side. These girls are competing for the lead roles in these dances and they will do ANYTHING to get to the top. This book was a mix of Pretty Little Liars and Black Swan. It was dark and that made it lovely because it was a contemporary. I got some pretty dark and twisted thoughts whilst reading this and I love that a book can make you feel that way. Like I said, one of the best books this year!
Immaculate by Katelyn Detweiler
Mina is seventeen. A virgin. And pregnant.
Another book with a very unique plot that has totally been unheard of in YA literature. This over is a total reflection of what the story is like on the inside-- beautiful and mysterious. Mina is seventeen, A virgin. And pregnant. *mind blows up* How could that not intrigue you! I was so curious to how she got pregnant and the fact that she's a virgin just makes the mind-blowing factor increase. I feel like the author took a huge risk writing about something very serious and religious (yes, there are religious aspects in this book). Katelyn did so well on this book and she understood that there was a fine line between seriousness and light sarcastic moments in the book that made me laugh. Family, love, religion are some dominant topics in this book, and yet I loved ever moment of it.

One of the Guys by Lisa Aldin
The plot of this book is hard to explain because, in a sense, it's a bit complicated. Basically the main character Toni understands guys and she knows how they work. When she sets one of her friends on a date with a really cute guy, word spreads around that Toni has some great boy connections. Thinking about how this could be totally beneficial to them, Toni and her friend start a Rent-A-Gent service where you can buy your date. Things fall horribly wrong when Toni falls in love with one of her friends who also happens to be the most sought-after date in this renting service. Everyone wants a piece of him and she has to decide if she wants to keep her service and this new-found wealth or be with the guy she's in love with. The cutesy romances are really my type but this one was fantastic. Maybe it's because the characters were so relatable and in there positions, I would do the same exact thing. Also the story is so real and it makes you scrunch your fists in the moments of angst but it might just break your heart in moments of heartache.
The Haunting of Sunshine Girl by Paige McKenzie
This was mentioned as one of my favorite horror novels of 2015. If you're not a horror buff or not a fan of a little scare, I recommend skipping this one because you're probably not going to end up liking it. I was surprised by the chills I got from this book considering I'm a huge horror buff and I don't get easily scared. THIS BOOK GAVE ME THE CHILLS and I recommend to anyone that you should read this during the daytime or with all the lights on in the house. It's everything a great horror novel should be- frightening, apprehensive, and angst-y.
An Ember In the Ashes by Sabaa Tahir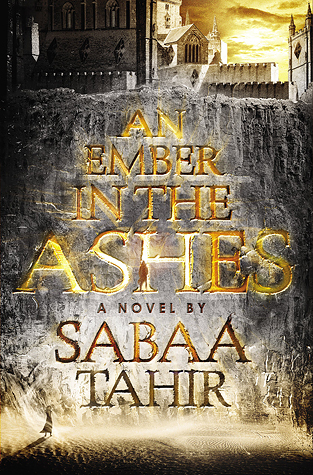 I was debating where on the ranks to place this book since it wasn't "amazing" but it did leave a huge impression and still deserved its 5 stars. An Ember in the Ashes has the perfect amount of magic and romance that nothing is overbearing or irritating but sometimes perfect doesn't fulfill people's needs. I felt like this book could've had more romance because I know a lot of readers who were satisfied with the plot and all but felt that there couldn't been more of a spark between the two characters. I have to give it to Sabaa Tahir for her extremely interesting world building. She builds this entirely new world from scratch and there are new words and terms to define everything. It's kind of hard to keep track of in the beginning but you get used to it sooner or later. I would recommend this book to those lovers of contemporary that are anxious about reading a fantasy. This is where you should start with fantasy.
The Conspiracy of Us by Maggie Hall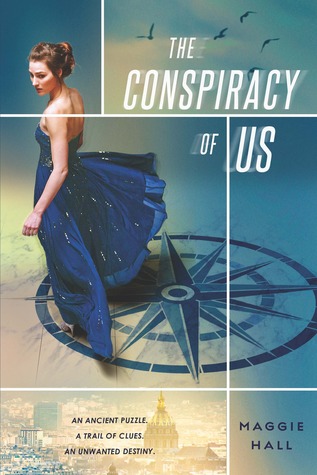 I had such a hard time ranking this book. I think the only reason this book is even on this list is because of the kickass action scenes and plot twists. Other than that, I felt that the plot was unoriginal and the characters were instalove. Oh, instalove the true terror! But the action scenes truly make up for it because, wow, they were amazing. Okay, okay sorry in advance for my horrible description but I felt like the author had defeated these ninjas in the past and was writing about her experience in this book because I could follow it along with my mind and imagine the scene being played out. There is also a major plot twist so for you plot-twist-lovers, this book is a go!

Everything Everything by Nicola Yoon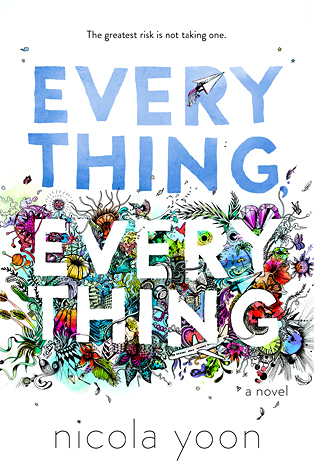 Another book with a cover that literally is a reflection of the story. This story is unique and exotic, just as the cover tells. Everything Everything is about a girl with a disease that prevents her from going outside and breathing in harmful bacteria that is basically found in the air. So she's been living in her house for seventeen years and hasn't taken a step outside into the real world. Until... the new neighbors move in and a cute guy ends up loving next door. Everything changes as he demands to know more about her and she wants to get closer to him. Would she be willing to risk everything for love? This doesn't come out until September but definitely keep an eye on the shelves for this heartfelt and groundbreaking debut.
The Glass Arrow by Kristen Simmons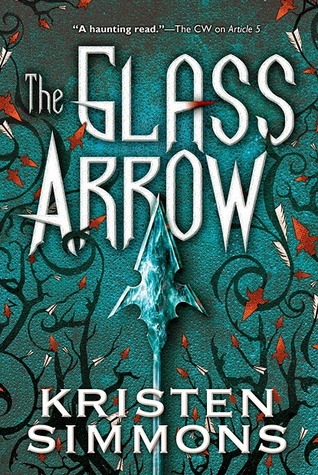 Wait.. I just got word that this is not a debut. How slightly embarrassing but it's still going as one of my top books of 2015!
Another great fantasical and magical realism book that doesn't focus solely on magic but the lore and mystery behind the world. This world is especially unique because it takes place in a time where women are scarce and are hunted to be bought and sold in a market for breeding rights. The main character Aya has fled from her inevitable fate of being sold off and bred for almost as long as she can remember until she's finally captured and surviving is the only thing that matters. But how do you survive in a world where you're the main prey? It's fast-paced and very easy to read. I read it in one sitting, by the way and couldn't have asked for a better novel to fill my head with thoughts on how I react if our world was like this.
And coming in 10th place for this year's top debuts, ladies and gentlemen, I give you...
Red Queen by Victoria Aveyard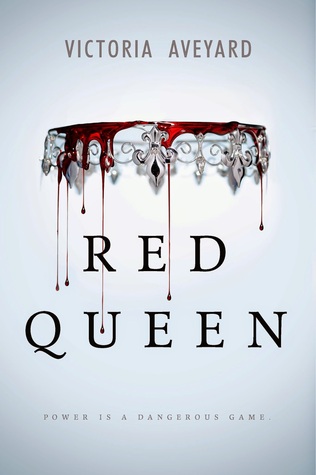 As a huge fantasy reader, I take my fantasy books very very seriously. Some people didn't like this, but I'm not some people and I loved loved the concept of this book. I did have my qualms, however, but nothing that was so major that stopped me from enjoying every piece of this book. If you're wondering, the only reason this book is 10th place is not because it's bad but because of the meer fact that I enjoyed all the books that are ranked higher much much more. Another fantasy book that focuses on the world building and the concepts. Victoria made sure that there was an explanation behind everything that happened and yes, yes, that's what I love to see in fast-paced fantasy books! The only thing is that the characters fell flat for me, but I'm sure this is only because it's the first book in a series so there should be more to come in the future.

What are some of your top debuts of this year?