I thought it'd be great to share some of the top snacks I like to munch on when I'm reading. We all love to snack on something when we're reading, and this post is perfect for you! I will give you the biggest tips in choosing the healthiest and smartest snack choices.
1. Pretzel Crisps by Snack Factory
These are probably the best pretzels that have ever been made! They are basically pretzels that have been mashed into crisps like thin potato chips! They are 10x as lighter and crispier than any other ordinary pretzel and pretzels are a healthier alternative to oily bags of potato chips or Doritios. They come in many different flavors- Original, Everything, and Parmesan Garlic. It's freaking delicious!
2. Good Old Fashioned Grapes
Grapes are succulent and sweet little things to indulge in when you're reading. But be warned you might drop some grape juice on your books and it doesn't get kind of messy! Whether it's green grapes of purple grapes, grapes are just delicious and so much healthier!
3. Frozen Mangoes
A while back I used to be obsessed with frozen mangoes. Frozen mangoes are so good and a great, fun way to mix up eating your fruits. Frozen grapes are actually a thing now! They're great because they leave no mess and they just pop in your mouth when you need something quick to fulfill your hunger.
4. Pocky (Japanese Biscuit)
Although not the healthiest option, Pocky is probably the most delicious chocolate-covered biscuit in the world. They are long cookie sticks that are dipped in all different kinds of chocolate- chocolate, vanilla, strawberry, and even green tea for all you green tea lovers out there! Because of their shape, they are the perfect snack to just finish quickly.
5. Krave Cereal
Yes Krave is a boxed cereal but it also doubles as a small snack you can pop in your mouth one-by-one. They are little cookie biscuits filled with an inside layer of chocolate, and it's just so good yum yum yum. Try them with milk, they're even better. What I like to do when eating these while reading is take them and pour them out in a small bowl that I take with me to my bedroom.
6. Gummy Bears
If you're a candy kind of person, gummy bears are the best! They're small, ready to eat, and savory! Not to mention they are bear-shaped and that means good things happen. I also like to play around with food and these gummy bears just give me all the more of a reason to play with my food.
7. Chocolate-Covered Almonds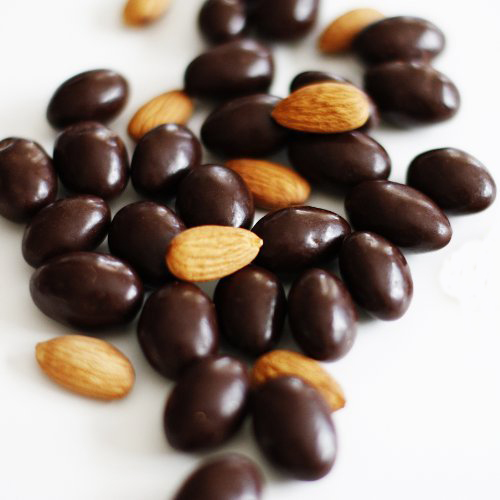 I'm not allowed to eat too much at a time. Chocolate-covered almonds are very very unhealthy especially for me because I like to binge eat. Nonetheless, they are probably the best things in the world since they're so delectable and tasty. A crispy and crunchy almond engulfed with a chocolate coating. Perfection!
8. Apples Dipped in Crunchy Peanut Butter
Apples are by far my favorite fruit but when you pair it with peanut butter... you create an entirely new treat that is both healthy and a little unhealthy! If it doesn't make sense, then just take my word for it and try it out. You're going to be amazed by how great it tastes. And yes, it does look disgusting if you've never had it before.
I want to know.. what are your favorite things to eat when reading?