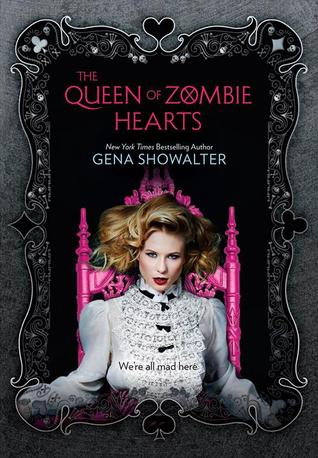 Title: The Queen of Zombie Hearts
Author: Gena Showalter
Pages: 464
Published: September 30, 2014
Genre: YA fantasy/sci-fi and romance
I have a plan.

We'll either destroy them for good, or they'll destroy us.

Either way, only one of us is walking away.

In the stunning conclusion to the wildly popular White Rabbit Chronicles, Alice "Ali" Bell thinks the worst is behind her. She's ready to take the next step with her boyfriend Cole Holland, the leader of the zombie slayers... until Anima Industries, the agency controlling the zombies, launches a sneak attack, kissing four of her friends. It's then she realizes that humans can be more dangerous than monsters... and the worst has only begun.

As the surviving slayers prepare for war, Ali discovers, she, too, can control the zombies... and she isn't the girl she thought she was. She's connected to the woman responsible for killing- and turning- Cole's mother. How can their relationship endure? As secrets come to light, and more slayers are taken or killed, Ali will fight harder than ever to bring down Anima- even sacrifisng her own life for those she loves.
HOLY FLAPPING FRIGGING BIRDSS!! The Queen of Zombie Hearts is coming out tomorrow... like in less than 12 hours! That's freaking amazing, and I'm so glad I get to be apart of the Cole and Frosty fangirling fandoms. Guys.. guys.. guys. I cannot emphasize my point any more on how much you need to check out this series.
The Queen of Zombie Hearts
is my most anticipated read of this month!!
Purchase Links:
Don't forget to check up on my blog for the full series review on The White Rabbit Chronicles!
Get it now... or die! (hehe)